Endoscopic techniques have been used for diagnostic purposes since the late 1970's. Not until the 1990's did endoscopic techniques become more widely used for surgery and the treatment of various spine conditions. As a result, through the use of these techniques, surgeons are able to perform surgery through small incisions by using special instrumentation and video cameras.
Explain an endoscopic procedure?
During an endoscopic procedure, the surgeon makes a small incision on the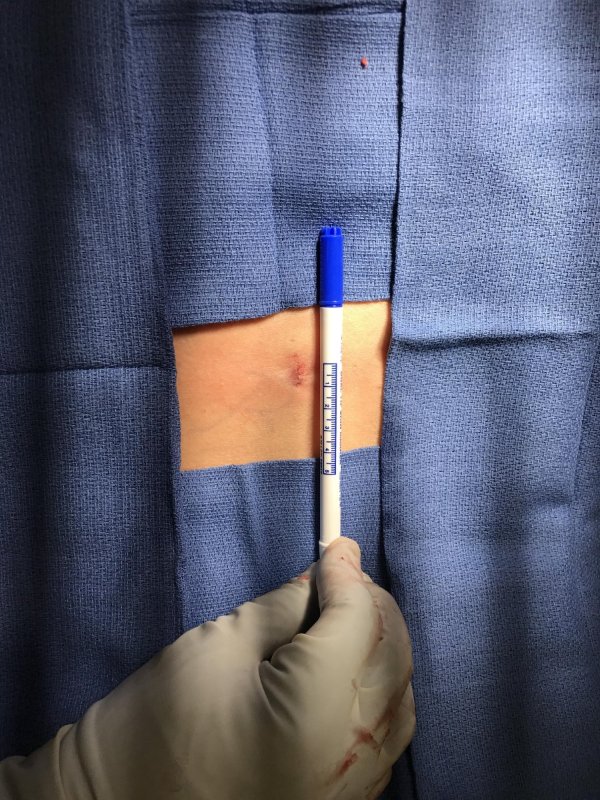 patients back to access the area of the spine that needs treatment. This incision is typically no larger than 10 mm. To access the treatment area a guided wire is inserted to locate the spinal canal (e.g. disc, vertebral bone, etc.). Once the treatment area has been established, a set of dilating tubes are placed over the guidewire spreading apart the overlying muscles. A final tube, called a retractor, is then put in place and the guidewire is removed.
With the retractor in place, the dilating tubes are also removed and an endoscope — a small camera and surgical light attached to a flexible tube — is passed through the retractor to transmit video of the procedure to an on-site monitor. This allows minimal disruption to the surrounding tissue and provides optimal visualization of the surgical area.
Once the procedure is complete, the tubular retractor is removed. And a small bandage is placed over the incision area.
Is endoscopic spine surgery for me?
Endoscopic spine surgery is safe and effective for many conditions, but may not be the best option for complex situations. Knowing the exact cause of pain while factoring in the patient's age, weight, and lifestyle all help determine if someone is a candidate for endoscopic spine surgery.
If you are considering endoscopic spine surgery as an option, be sure to choose an experienced endoscopic spine surgeon. It takes special training and hands-on experience to achieve a high success rate and you definitely want a surgeon that has proved him/herself in this specialty.
What are the benefits of Endoscopic Spine Surgery?
Same day procedure

Less muscle and tissue damage from minimally invasive techniques

Less pain experienced during procedure and recovery

Minimal blood loss

Decreased chance of postoperative infection

Quicker return to normal living
At the Minnesota Spine Institute, orthopedic spine surgeon Dr. Dan Hanson is a leader in endoscopic spine surgeries having been named to a distinguished list of endoscopic spine surgeons by Becker's Spine Review. With multiple Top Doctor awards and practicing since 2004, Dr. Hanson has performed countless spine surgeries leading to excellent results.
If you are experiencing back pain and considering spine surgery, please contact our office at 612-670-4971 to schedule a consultation.